Location:
520 8th St. S
Birmingham, AL 35233
Air Conditioning, Heating, Plumbing, & Emergency Service Company in Birmingham, AL
We offer new, energy efficient models of units you already have in your home or we can install a brand new one of your choice. We are the trusted full service insulation, heating and cooling contractor of Birmingham, AL. We specialize in all duct work, cleaning, repair, and much more. It is important that your house functions as one, wholesome unit. The climate and air quality inside depends on multiple things. We work on making your home comfortable and livable.
The core of your home lies within the heating and cooling methods. Your heating and cooling units use the most energy in your home and utility bills can sky rocket if they aren't functioning properly. We can come out to your home to inspect your units as well as check the insulation of your home. Paying attention to proper insulation methods can also help save energy costs and keep your home running efficiently and safely.
Fixing Furnaces, Water Heaters, Plumbing & more in Birmingham
We install cost-effective and properly functioning HVAC units in your home. We can also insulate any garage, basement, attic or crawl space. Our experts are trained to provide you with multiple options so that you can find the one best suited for you and your family. We also pride ourselves on our customer care and comfort. Your home is important to us, too.
Standard Heating & Air Conditioning Company also specializes in plumbing. Our professionals offer services in new plumbing fixtures and replacements for sinks, toilets and tubs. We can visit any home or business and revamp the bathroom or kitchen with things like new faucets and cleaned drains.
Air Conditioning Repair & Installation
Standard Heating & Air Conditioning Company is the trusted air conditioning services company of the Greater Birmingham, AL. We offer a variety of cooling services such as air conditioning repair,installation, and more. Did you know that your air conditioning system is responsible for how your home's air quality? In fact, if you properly maintain your air conditioning, you will never have issues with the quality of your home's air.
Since 1939, homeowners of Birmingham have trusted us to repair and install central and ductless air conditioning units, and offer a wide assortment of products. If you are in need for air conditioning repair or installation services, contact us today to get a FREE, no obligation estimate!
Heating & Air Conditioning Services We Offer:
Air Conditioning Repair & Installation
Central & Ductless Air Conditioning
Electric Water Heaters
Gas Water Heaters
Tankless Water Heaters
Gas Boiler Installation
Gas Furnace Installation
Electric Furnace Replacement
Insulation Services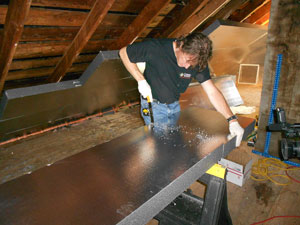 If your home is unusually warm in the summer or cool in the winter, odds are you in need of better insulation. At Standard Heating & Air Conditioning Company, we offer a wide variety of home insulation services ranging from air sealing, attic insulation, blown-in insulation, cellulose insulation, crawl space insulation, basement insulation, and even garage insulation. We understand that using the proper insulation in the right part of your home is extremely important, and will yield the greatest results.
Insulation Services We Offer:
Air Sealing
Attic, Basement, Garage and Crawl Space Insulation
Spray Foam Insulation
Spray Foam
Cellulose Insulation
Ductwork: Repair, Sealing, Cleaning